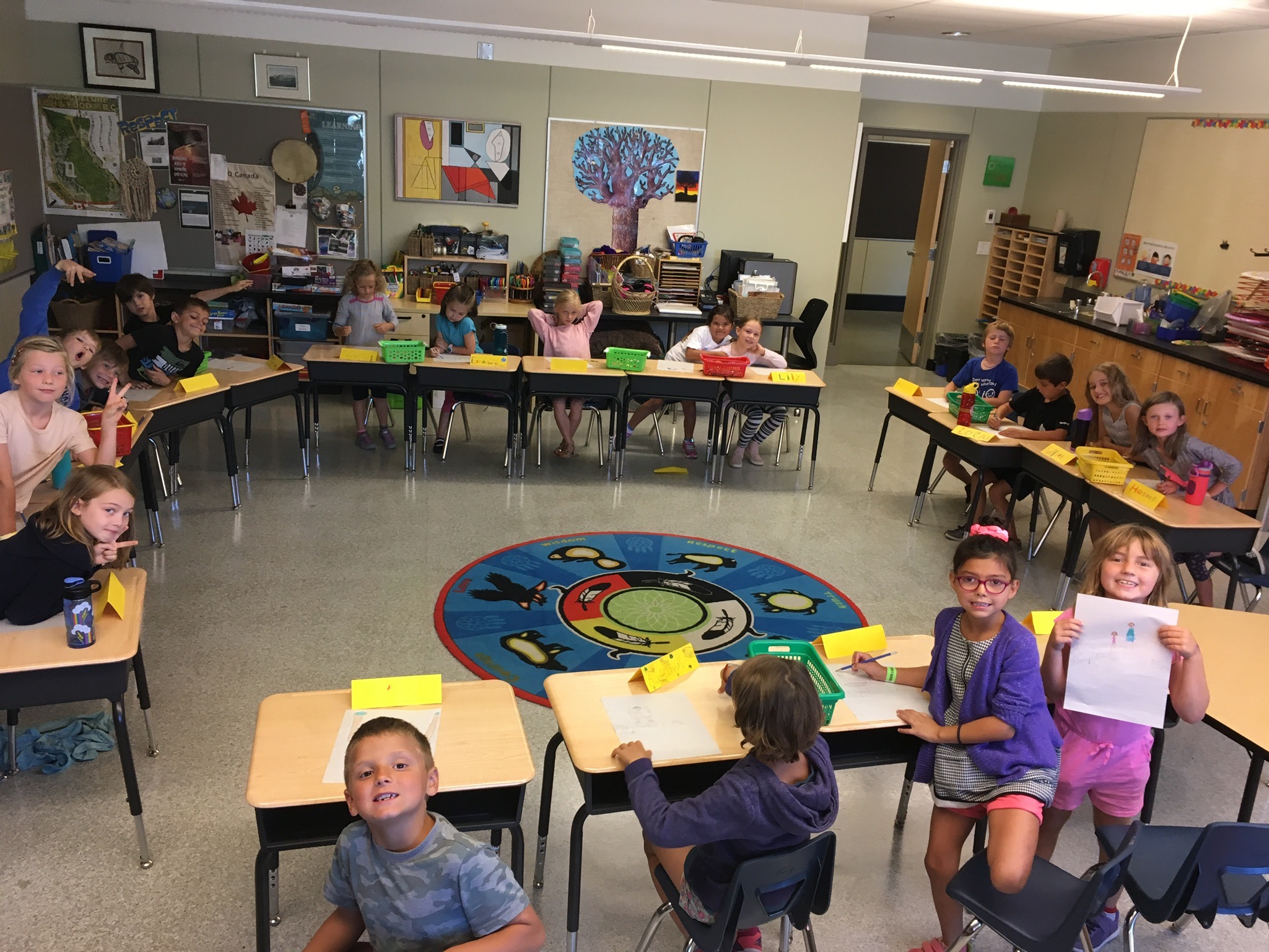 October in Grade 2!
We will be exploring our outdoor world.  WE DRESS FOR THE WEATHER EVERY DAY! 
MATH: Estimating, adding and subtracting to 10 (and higher), counting, collecting data, creating and reading graphs
READING: decoding sight words, "getting lost" in our book, reading for understanding (What is the big idea?), reading aloud with expression (To help build reading fluency we are learning to use EPIC an online reading program where students can listen to books being read with expression)  getepic.com
WRITING: confidently write about ourselves and our experiences, printing with proper letter and word spacing, writing complete sentences
SCIENCE: Thinking like a scientist (Looking at the world with wonder and asking questions.)  Force and Motion (exploring forces like push, pull and the motion created by these forces).
Your child should be sharing their planner with you every day as a way to encourage discussion about the learning that happened at school.  The planner can be a tool for parents to get beyond the usual Q and A.  
Parent: "What did you do at school today?"
Child:  "Nothing."  OR " I forgot."
The planner will have "I can..." statements so your child can talk about their personal understanding of the learning each day.
i.e. I can spell words with short vowel "a".  OR  I can write addition equations that have a sum 10.
Parents should sign the planner every night to show that you and your child have reviewed the day together.
The PLANNER is the main form of communication in our class...email may not get checked first thing before school so it is important to write in your child's planner any pertinent information for the next school day.
(i.e. Suzy will be going home with Aunty Jane. OR Suzy will be going home with STUDENT A ).
HOMEWORK:
READING:   Reading with your child every night is the best homework!
Reading happens in TWO places...in the book and in your own mind!  
http://www.bctf.ca/parents.aspx?id=3372
Be sure to log your Nightly Home Reading with your child in their PLANNER (or the pink home reading sheet) to be a part of our SUPER READER program.
** I am trying to remind students (when we write our planner note) to think back on the "night before" and remember if they read at home--if they did...they can put a check mark on yesterday's monthly book log at the front of their planner.  Once this "mini log" is full, parents add your signature.**
Where Is Mrs. Woods
If you or your child has an issue regarding the "Teacher Teaching on Call", please call me ASAP.  You can leave a message with Mrs. Mercer and I will get it when I return to the school (my home phone # is 604.792.5093--please call after 7:00 pm).    
It is my professional responsibility to communicate these issues with my "on call" colleagues.  Your child's learning, comfort and safety are very important to all teachers.
Of course, our Principal is always available to hear your concerns.
FYI :   angela_woods@sd33.bc.ca  Please contact me at school 604.823.4408
If you have an URGENT concern...please contact me at home 604.792.5093 (after 7pm).
What is Guided Reading? http://www.scholastic.ca/readinglevels/images/whatis.pdf
What are book levels? http://www.scholastic.ca/readinglevels/readinglevel.htm
ONLINE RESOURCES:  
SIGHT WORD GAMES:  http://www.familylearning.org.uk/sight_word_games.html 
Free Tumble Books: www.fvrl.ca
Digital books:  http://www.readtomelv.com/
MATH:
It never hurts to practice math skills--making it fun helps!  We will learn math games this year that will help build your child's confidence and skills in math.
Play now:
http://ca.ixl.com/math/grade-2/skip-counting
http://ca.ixl.com/math/grade-2
http://ca.ixl.com/math/grade-3/add-two-numbers-up-to-three-digits
http://ca.ixl.com/math/grade-3/