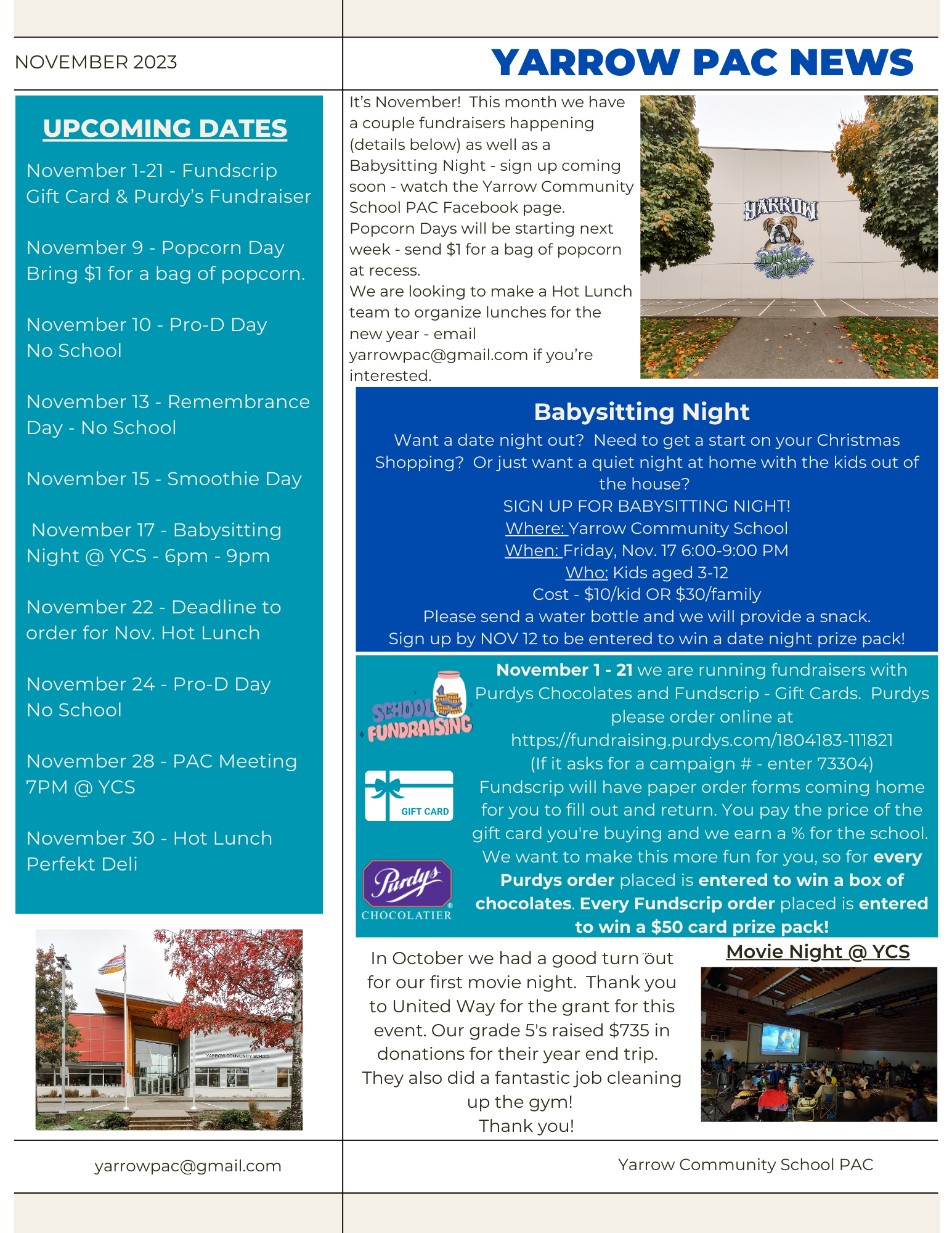 Welcome to the 2023/2024 School Year!
Did you know that every parent and guardian is a member of the Yarrow PAC? We are hoping to build a strong sense of community within our school and we encourage parents to get involved.  One way to start is by attending our monthly PAC meetings, which are held on the last Tuesday of the month at 7PM, in the YCS Library.
Your 2023/2024 PAC Executive
President – Leanne Letham
Vice President – Marie Vroom
Treasurer – Jackie Harper
Secretary – Sherisse Ellerby
DPAC - Vacant
Communication
Yarrow PAC communicates in a variety of ways.  As mentioned above, monthly PAC meetings are a great place that communication happens.  A few others include...
1. Yarrow PAC Webpage - This will have general information, upcoming dates, Newsletters, and PAC meeting Agendas and Minutes posted on it.  https://yarrow.sd33.bc.ca/pac
2. Facebook - Yarrow Community School PAC - We use this to communicate most often.  This is a space we look for volunteers, post reminders and polls, and share about events.  Make sure to join this page to keep up to date. 
3. Email - Monthly newsletters and other reminders are sent out through email.  If you aren't getting emails, email us at yarrowpac@gmail.com and we will add you to the list! 
If you are interested in getting involved or have any concerns, please email the PAC executive at yarrowpac@gmail.com 
4. Backpacks - Any notices or forms that are sent home will come home with the family courier (Oldest child).
PAC Meeting Dates - 2023/2024
September 26, October 24, November 28, January 30, February 27, April 30, May 28
Upcoming PAC Dates
November 1-21 - Fundraisers - Purdy's & Fundscrip  We greatly appreciate your support for the PAC!  While we advertise and promote our fundraisers, please do not feel pressured to buy.
Purdy's Chocolates - Order online https://fundraising.purdys.com/1804183-111821 by November 21.  Pick up your chocolates December 6 @ YCS.  Each order is entered to win a box of chocolates!
Fundscrip Gift Cards - We are selling gift cards...we haven't done this fundraiser in some time.  You pay the price of the gift card you are buying...and the PAC earns a % of the sale!  Great for Christmas gifts or your next grocery shop or your next tank of gas!  Paper order forms with gift card options are being sent home with the oldest children...more copies available at the office.  Please share these with family, neighbours, or workplaces.  Please return order forms to the office (we do not recommend sending your cash payment to school with your child.)  Orders due by November 21 @ 9am.  Payment - cash, cheque (Made out to Yarrow Community School PAC), and etransfer - yarrowpac@gmail.com   Each order is entered to win a $50 gift card pack!
November 9 - Popcorn Day - Bring your loonie for a bag of popcorn!
November 17 - Babysitting Night 6-9PM @ YCS.  Drop off your kids (ages 3-12) for a night of games, playing in the gym, and snacks.  Book a date night for yourselves or even just a quiet night at home.  $10/child or $30/family (children of the same household.)  Registration forms coming home - register by November 12 to be entered to win a gift card prize pack.
November 22 - Deadline for November Hot Lunch Orders
November 28 - PAC Meeting - 7PM @ YCS Library
November 30 - Hot Lunch Day - Perfekt Deli - Deli Buns